Memory Support Neighborhood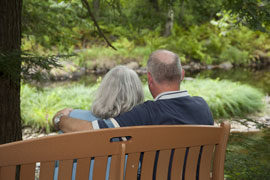 RiverMead also has a memory support neighborhood that provides personalized care and assistance. It is led by our Memory Support Coordinator and staffed 24 hours a day by specially trained staff members who support residents with memory loss.
RiverMead's unique approach reinforces each resident's capabilities while affirming dignity and self-esteem. The aviary, large fish tank, and secure outside garden area are just a few of the amenities that make this part of our community so special.
You have the peace of mind knowing that if nursing care is ever needed, it is available at no additional charge.
The Basics
Alzheimer's/Dementia causes memory loss that gets progressively worse over time. There are many different types of dementia that can cause a variety of different symptoms.
Symptoms include but aren't limited to:
Difficulty finding words

Mood changes

Personality changes

Decreased verbal ability

Irritability

Short term memory loss

Living in the past

Little sense of time
Loss of taste/smell

Decreased appetite

Poor hygiene

Aggression/Paranoia/Hallucinations

Poor social skills

Loss of interest in loved activities

Inability to string together a sentence

Difficulty performing everyday tasks
---
Helpful Hints on Dementia Care
Strategies & Tips for Communication
Approach slowly and never from behind

Make sure that you are at eye level

Use a friendly tone and facial expressions

Use simple sentences and allow time to process

Use hand gestures to be more easily understood

Talk slowly

Say less – many words can overwhelm

Try different words if they don't understand

Use the phrase "It's time to……." rather than "do you want to?" if it's something that's necessary (most often they'll say no)

Never argue

Enter their reality

Do not correct them

Avoid reason, logic, or the mention of time

Refrain from asking open ended questions

Focus on feelings rather than what they are saying

Listen . . . Listen . . . Listen

Be present in that moment

Respect them

Conversation should be simple and respectful

Practice empathy
Request Our Brochure
Helpful Hints on Dementia Care