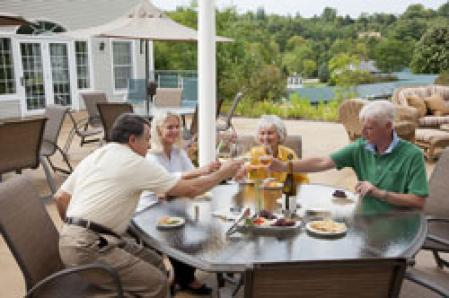 Whatever your interests and hobbies, your recreational pursuits, your social activities, RiverMead will open a door to the unfettered life you have always wanted to lead. You can truly live your dreams. Your beautiful home, whether a cottage or a residence, can be a quiet retreat by the fire, a cocktail party with friends, a good novel on the balcony or one of your favorite dinners.
Life at RiverMead includes housekeeping, complete maintenance services, bed linen service, shuttle service on and off campus, hair salon for men and women, picnic areas with charcoal grills, fitness centers, a 20' x 50' heated indoor pool, lounges, and elegant, spacious entrances and seating alcoves to welcome family and friends.
Food often takes center stage at RiverMead, awakening your senses and tempting your palate. Our award-winning chefs bring a delicious and creative level of dining to RiverMead living.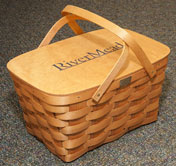 Take a culinary tour: First stop - the Cafe for morning muffins; our self-service Bistro is popular for an informal lunch or order a to-go picnic basket that you can pick up and take anywhere; or sit down and have a relaxing lunch or dinner in our formal or informal dining rooms; or go to the Pub for pizza at The Village.
In August "bib up" for LobsterFest. October features chef-brewed beers, ales and stouts to accompany our authentic OktoberFest celebration. In April we take a culinary trip to Paris to celebrate French food, and in May we put on hats for the Kentucky Derby, with mint juleps and southern fare. Yes, outstanding cuisine resides at RiverMead!